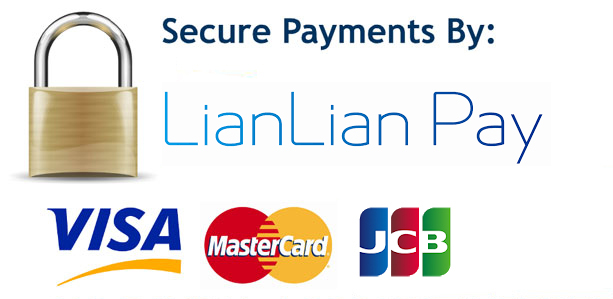 We use LianLian Pay as our payment gateway. Below is the details of the system:
LianLian Pay is compiled with PCI DSS (Level 1, Version 3.2), the highest security and the newest, industry-wide technical data security standard to protect user account information.
LianLian Pay offers complete payment processing solutions to merchants around the world.
LianLian Pay was the pioneer in the development of web based payment processing for online merchants and was amongst the first to enable multi-currency, non-signature online credit card transactions.
LianLian Pay is recognized as having the industries lowest rates and the most advanced payment processing solution. Aside from a One Rate Advantage?, no hidden fees and unlimited processing volume, merchants are provided free, a powerful real-time account monitoring and reporting tool. This web based tool includes everything a merchant needs to monitor sales, settlements, inventory, eliminate risk and control fraud.
LianLian Pay is approved by over 20 major banks around the world and processes over $1 billion per year. The company services over ten thousand merchant customers in 79 countries and sells through a quality reseller program and account executives.
LianLian Pay provides fraud detection solutions to reduce customer fraud as well as customizated merchant risk management solutions.